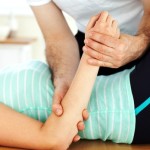 Physiotherapy at Filosofi is all about manual therapies.  Our Registered Physiotherapist Bhavana spends the entire time with you working on strengthening and stretching to get you back to your pre-injury state.  As well as  working with you one-on-one at the Clinic, she will send you home with an exercise program that is tailored to your needs.  By spending quality time with  you at the Clinic and and giving you specific routines to work on at home, she is able to keep your visits to a minimum.  
Physiotherapy is an integral component to healing and when it is combined with Low Intensity Laser Therapy and Massage Therapy, the cycle of care and healing is optimized. 
Appointment are available on Mondays, Wednesdays and Fridays between 5:30 pm and 8:00 pm.
Read more about our Registered Physiotherapist Bhavana Malavia.  
Fees
Initial Visit (approximately 60 minutes)       $100
Follow up session (30 minutes)                       $65
Follow up session (45 minutes)                       $80
There is no tax on Physiotherapy services and insurance receipts are always provided.